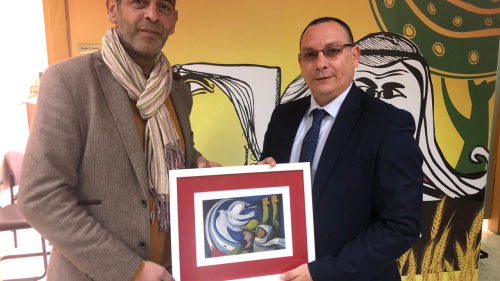 The Palestine and Arabic Studies (PAS) Program at Birzeit University had the pleasure to welcome the Nicaraguan Ambassador Mr. Roberto Morales. The ambassador met with Dr. Ala Alazzeh, Director of PAS and Mrs. Rasha Kassis, the Administrative and Financial coordinator. They discussed potential cooperation between the PAS program and Nicaraguan universities to develop future academic relations and exchange.
The ambassador discussed Nicaraguan development in the education sector, specifically plans for higher education in rural areas and their efforts to provide higher education for socially marginalized groups. Dr. Alazzeh and Mrs. Kassis acquainted the ambassador with the PAS program, considered the university's window to the world, and their strong interest in strengthening academic relations with Nicaragua, Latin America countries, and the global south more broadly.
 On behalf of the PAS program and the Faculty of Arts, Dr. Alazzeh presented a symbolic gift to the ambassador, a reproduction of an art piece by the Palestinian artist Abdel Al-Moty Abu Zaid (1982) expressing solidarity and common struggle for both peoples. They discussed the historical relationship between the Palestinian and Nicaraguan peoples and the role that Nicaragua plays in supporting the rights of the Palestinian people.